Chaos in Retro City
A downloadable game for Windows, macOS, and Linux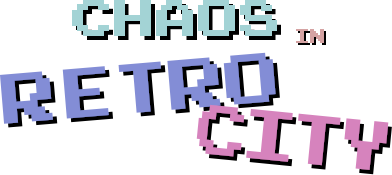 Welcome to Retro City, where your skills and smarts will be put to the test!
Thanks for taking the time to check out my game! If you happened to stumble onto this page, well, maybe you can give this game a try and see what you think. It's free! But, of course, if you wanna drop a donation, that would be totally appreciated as well. :-)
Everything you see, hear and do in this game was created by me, myself and I. The technologies I used were:
Visual Studio with C# and MonoGame
MS Paint (Don't judge me!)
SFXR (Android App for Sound Effects)
LMMS (Music Editing Software)
STORY
Umm, so the story is that you play as a gaming enthusiast who goes to bed one night and wakes up in the game world. Yeah, so I didn't put much thought into any story, but who cares about the story, anyway?
DEFAULT KEYBOARD CONTROLS
| | |
| --- | --- |
| Left / Right | Move |
| X | Jump |
| C | Attack / Throw |
| Up + C | Use Item |
| Down | Crouch / Pick Up |
If you don't like this layout, you can change the keys in-game.
This game also has controller support, which is what I would recommend. I tested it using a 360 style controller, but I'm pretty sure other gamepads will work, too. If they don't, then you may have to use Joy2Key, which is a simple controller-to-keyboard program.
Again, thank you for playing!
See you in cyberspace,
J.C.
Download
Click download now to get access to the following files:
ChaosInRetroCity_win.zip
32 MB
ChaosInRetroCity_osx.zip
37 MB
ChaosInRetroCity_linux.zip
41 MB
Comments
Log in with itch.io to leave a comment.
As Usual Gameplay from Z9ZGAMES Channel!!
With All Thanks to the Creator of the Game!!